Favorite Websites:
Nick Jr.
All Recipes
Home and Garden Television
Do It Yourself Network
Other Blogs:
Durham Family
Moore Family
Sunday, November 01, 2009
It's been a while...yes, I know! But, we're finally back after a 6 month sabbatical from the blogging world. A TON has happened in the last 6 months. So, much that I'll blog about it all in the near future.
At the beginning of October, Marisa had a great idea for costumes for Sabrina and herself. She wanted to be the moon and Sabrina to be the stars. They don't actually sell that costume anywhere and when I mentioned it to Josh I got a very pessimistic "yeah, right...you could make that face." I had a feeling that the moon would probably look more like a pancake. So, was trying to come up with a better plan for the girls.
Then, I found the greatest bargain at a garage sale. It was the cutest costume for only $5 - who could pass that one up. So, this is what Sabrina was going to be!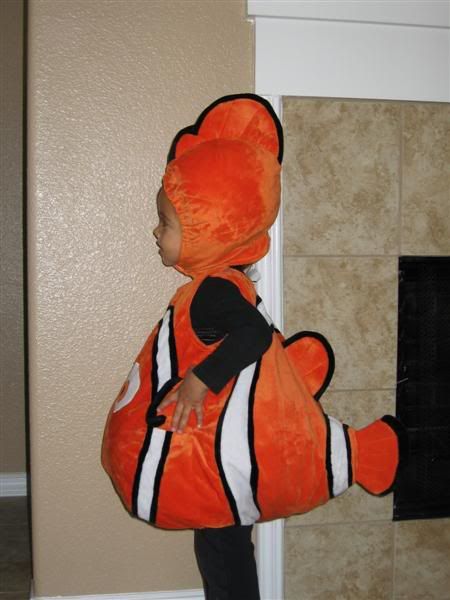 I have to say she was the cutest Nemo EVER!!! And, now I was at a loss for what Marisa would be. Poor Marisa had high hopes for being the moon and Sabrina's Nemo costume put a kabosh on that idea. So, now we were on a hunt for Marisa's costume. We had a friend with a Sully Monster costume from Monsters, Inc. but Marisa didn't want to be Sully. She wanted to match Sabrina and wanted to be Dory. BUT...Dory was a minimum of $55 on Ebay, so that wasn't happening.
Plan B - One of Marisa's FAVORITE Disney stories is the story of Mulan. If you have a daughter and have never heard of Mulan or seen it, it's truly a MUST see. The story is about a Chinese girl who's told that she can only bring honor to her family by being a good wife but she knows that she isn't your traditional young girl. The Chinese Emperor then calls for one man from each family to join the Imperial Army to fight the Huns. Mulan decides that her father can not fight for the Army because he sustained a war wound when he was younger and leaves to impersonate a boy and be the soldier her father cannot be. I won't give the rest away...if you haven't seen it, but it is a great movie. Anyways, from the time Marisa was 3, we would watch Mulan for days on end and she would even go through phases of being called Mulan instead of Marisa.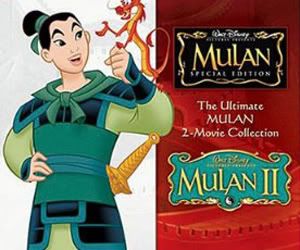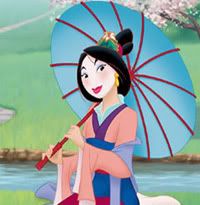 And, of course, she'd NEVER want to be the girly, princess version of Mulan in her beautiful Kimono (the costume that is readily available in the Disney Store). She would have to be the Warrior Mulan. Ebay searches found a couple of Mulan Warrior costumes that would fit Marisa at a reasonable price...but of course
I
wanted the new one. It went for $23+shipping and I wasn't about to pay that much for it. So, I'd promised her Mulan and had to provide...I had convinced myself that it wouldn't be hard to do. After all, I am an engineer. Envisioning the costume and how it's put together was the easy part for me. The challenge was sewing. But, I did it last year, so by golly, I was going to do it again. Josh kept saying that I had set a precedence from last year. Oh well....do what you have to do, right.
So, enough with the background (yes, I know, I'm too wordy)...here is the final product and Marisa LOVED it!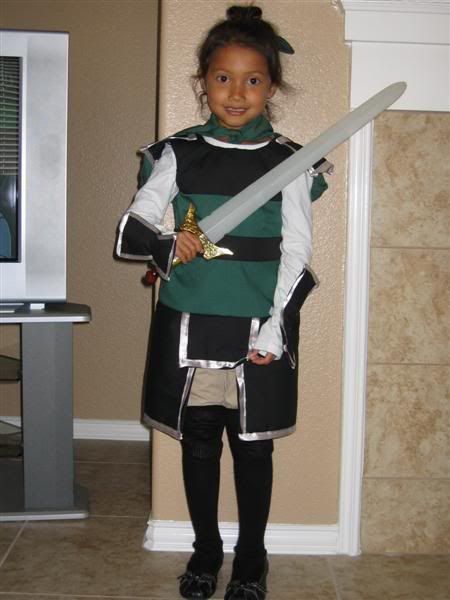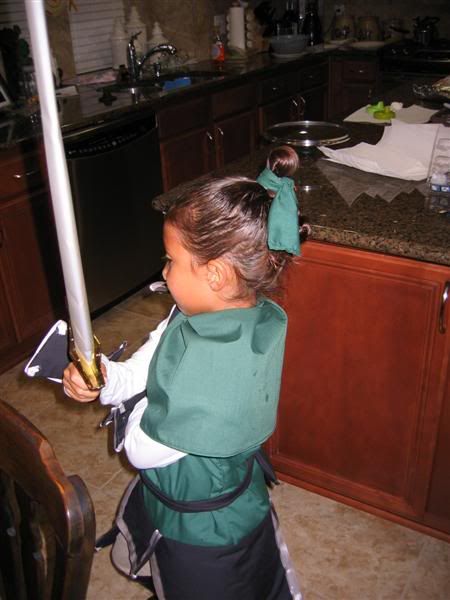 Funny story -
Before, the costume was done, I had her try it on for everyone. Josh got in the habit of referring to her as Mulan and not Marisa. Telling her that she missed Marisa and that we didn't know where Marisa was. She needed to come back and see Marisa because Marisa would love to meet her. Even little Sabrina would call her Mulan. Well, one night before bed Marisa says to me, "Mom, did you see Mulan? Dad said that Mulan was here." And I said, "Yes, I saw her, she's very well behaved." So, Marisa looks at me with a big smile and says, "Well, I have a secret and it's just between you and me, (winking at me) but I AM Mulan. Don't tell anyone because everyone thinks that Mulan has been coming by." HA! And, last night while dressed as Mulan, she says..."Thanks, Mom, I mean, Rom Tom, or someone I don't know..." So, I had to correct her and say, "You mean Mrs. Holding."
Here is a picture of our 2 trick or treaters together -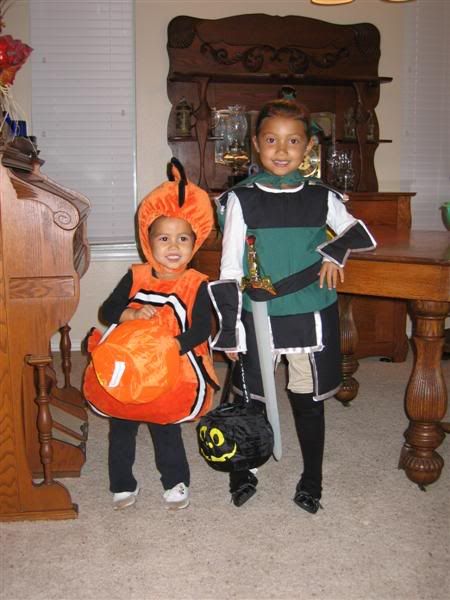 After our trick or treating was done, this is how Marisa ended her night. She is her father's daughter!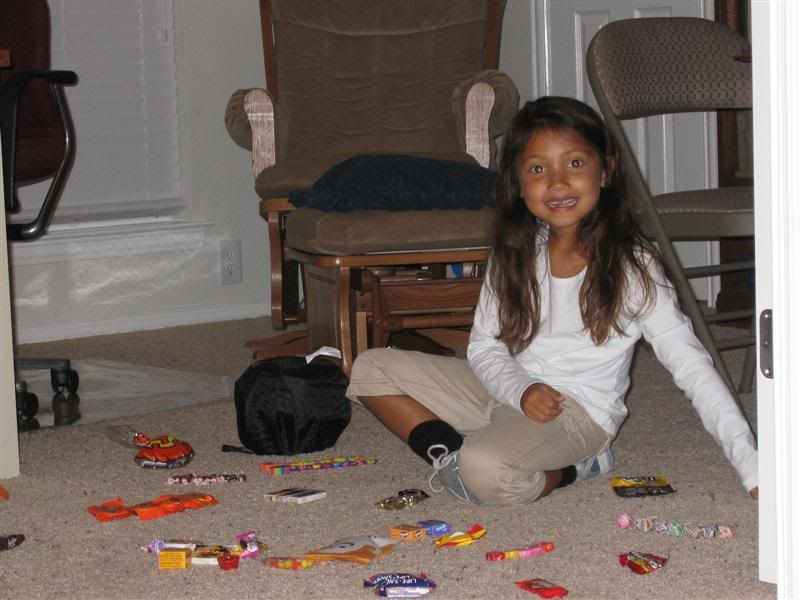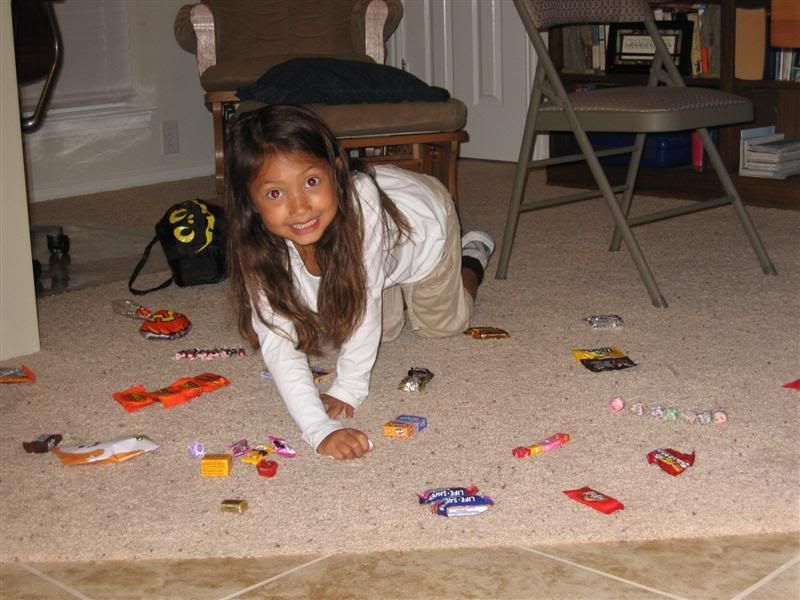 And the master imitator following suit -
Hope everyone had a safe and fun Halloween!
Posted at 09:02 am by ROMTOM
Permalink
Friday, April 17, 2009
We took 142 pictures of the girls in or around the bluebonnets last Friday, April 10th. Not one picture captures both them smiling or even really looking at the camera. UGH! Marisa noticed the buzzing bees right off the bat. So, once she was in the bluebonnets, she kept her eyes on them to make sure they weren't coming after her. Then Sabrina noticed them and was fixated on them, too. Once we got away from the bees, the girls became found the ladybugs. So, here are 10 different collages of pictures of the girls being busy keeping from the bees, squinting from the sunlight and fixating on ladybugs. Pictures progress from left to right and then down the right hand side for the layouts and back around that have one large center picture with the squares around the perimeter.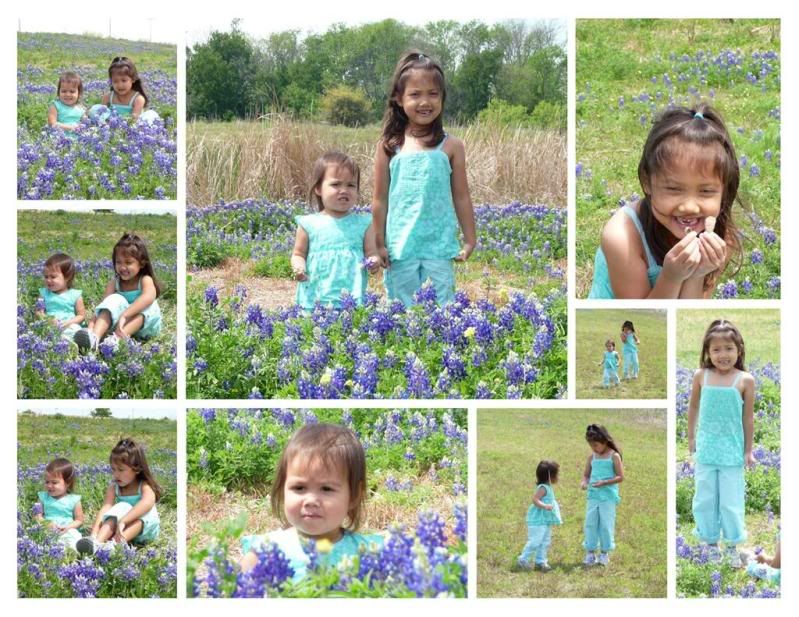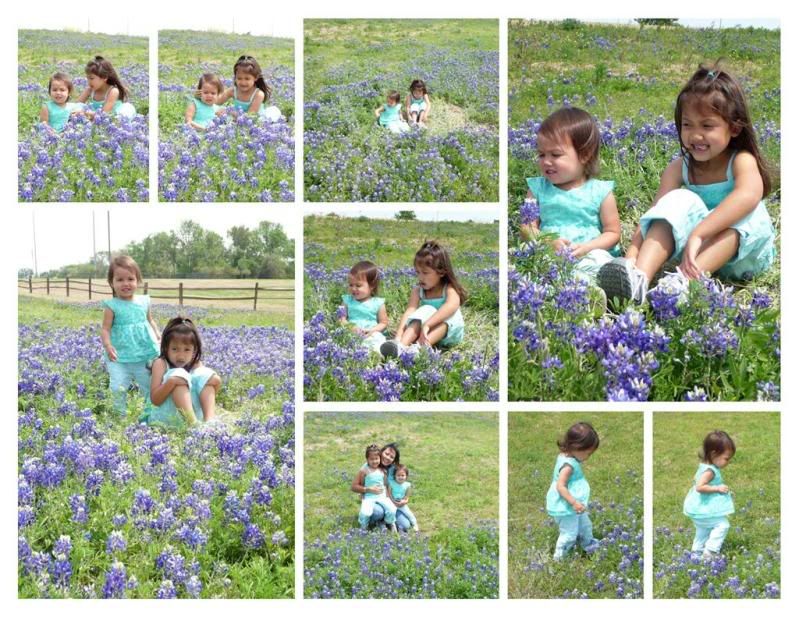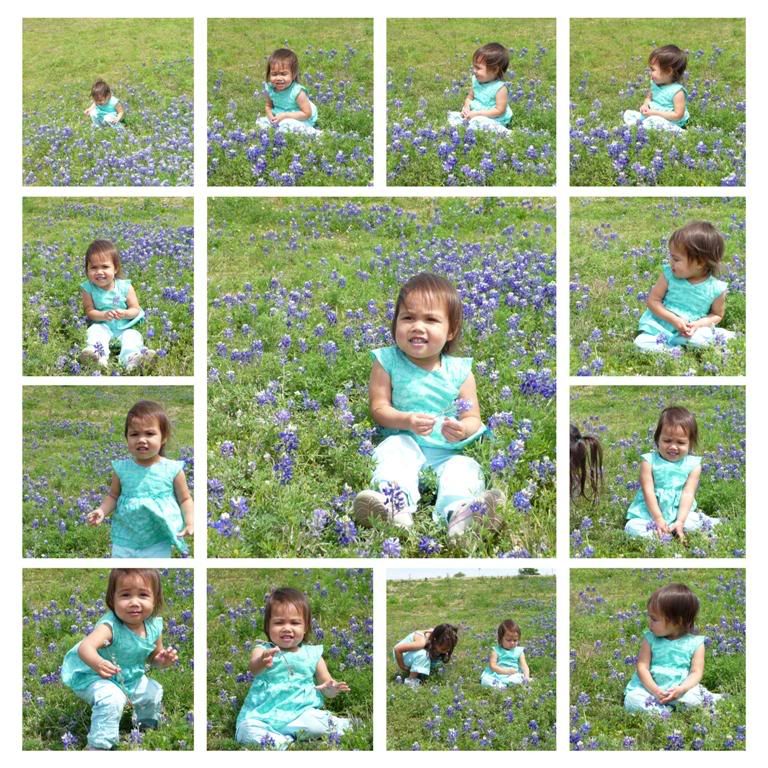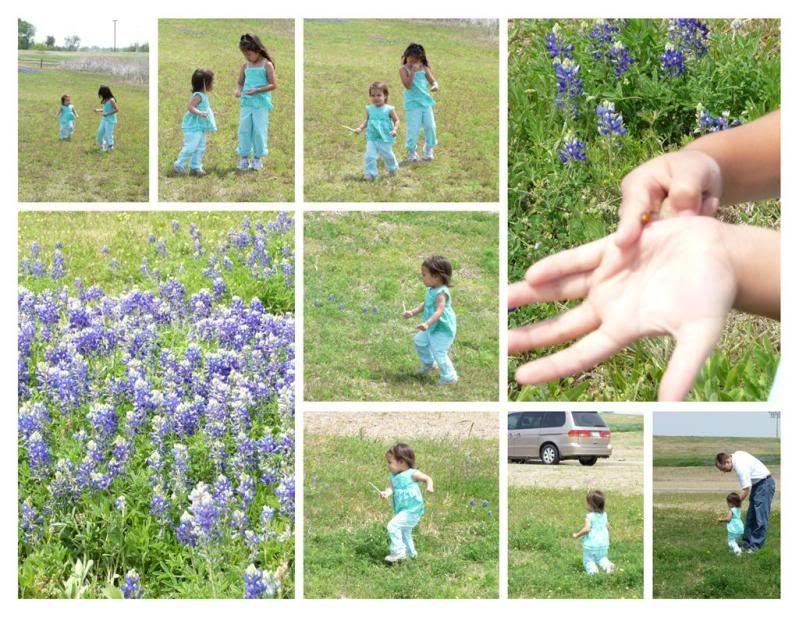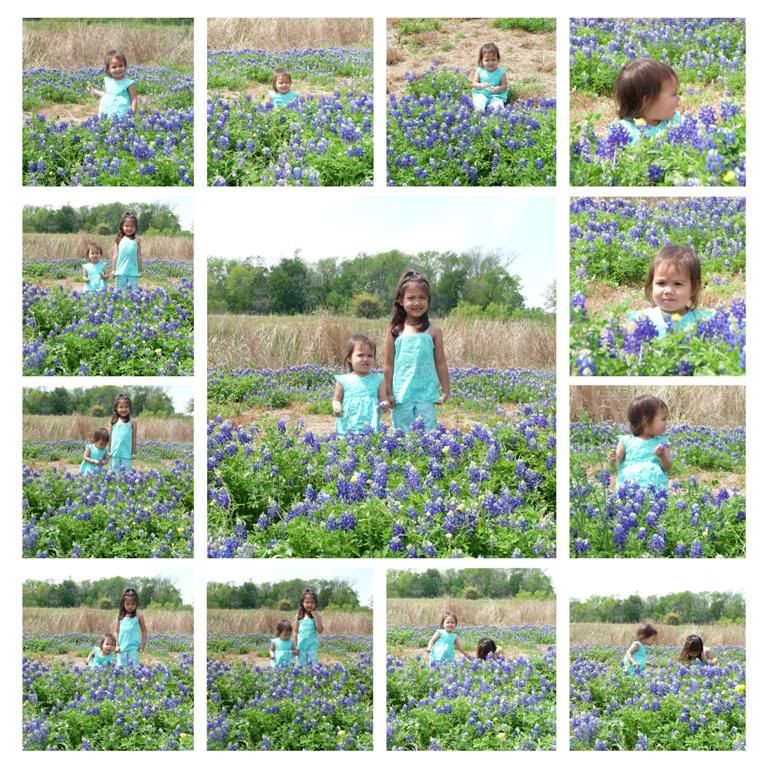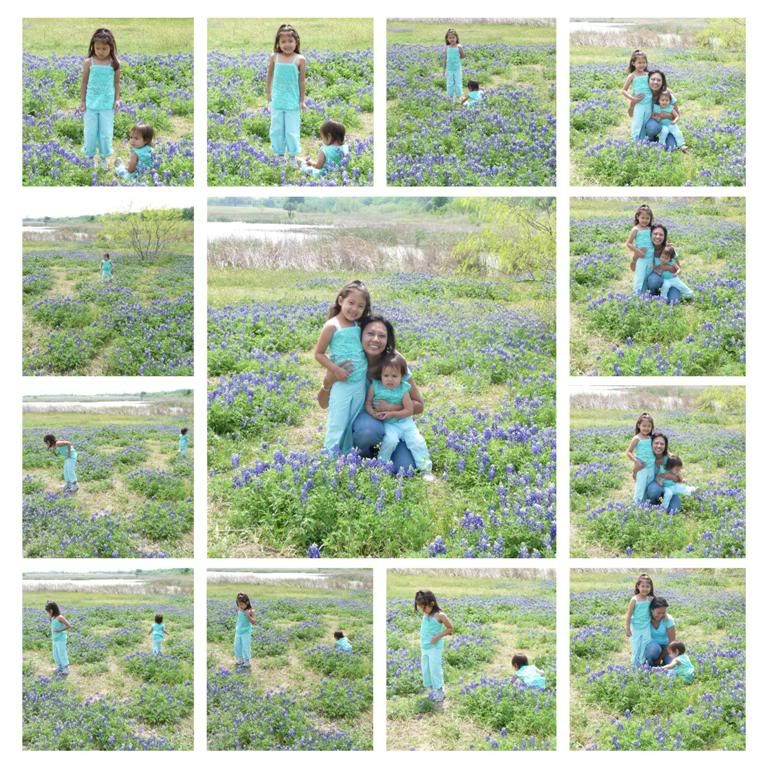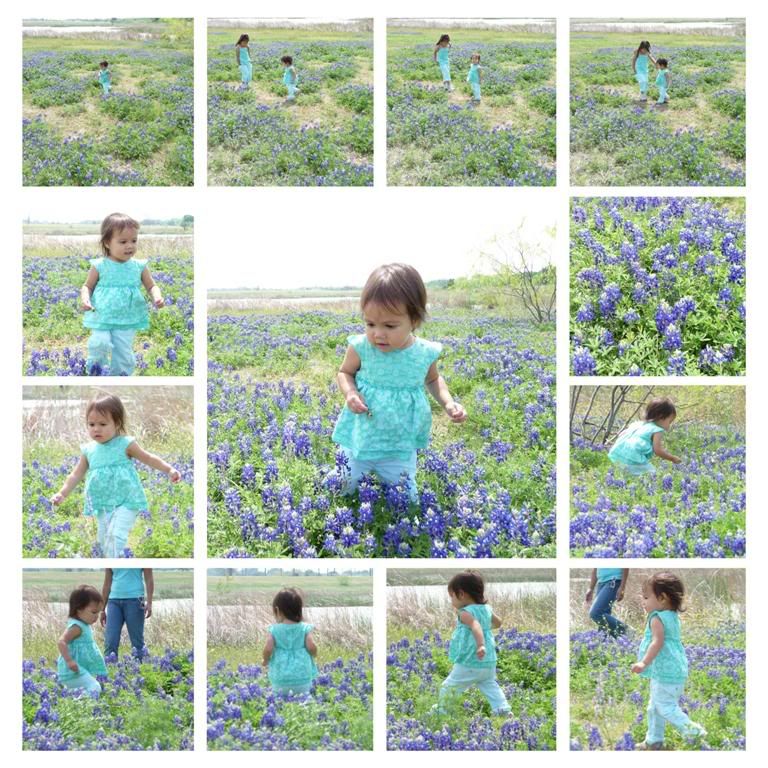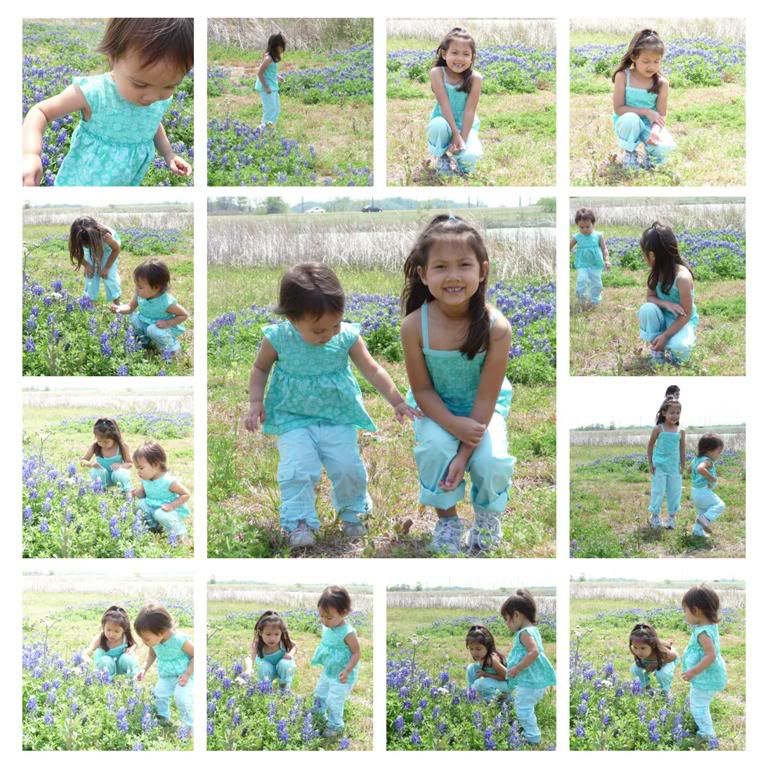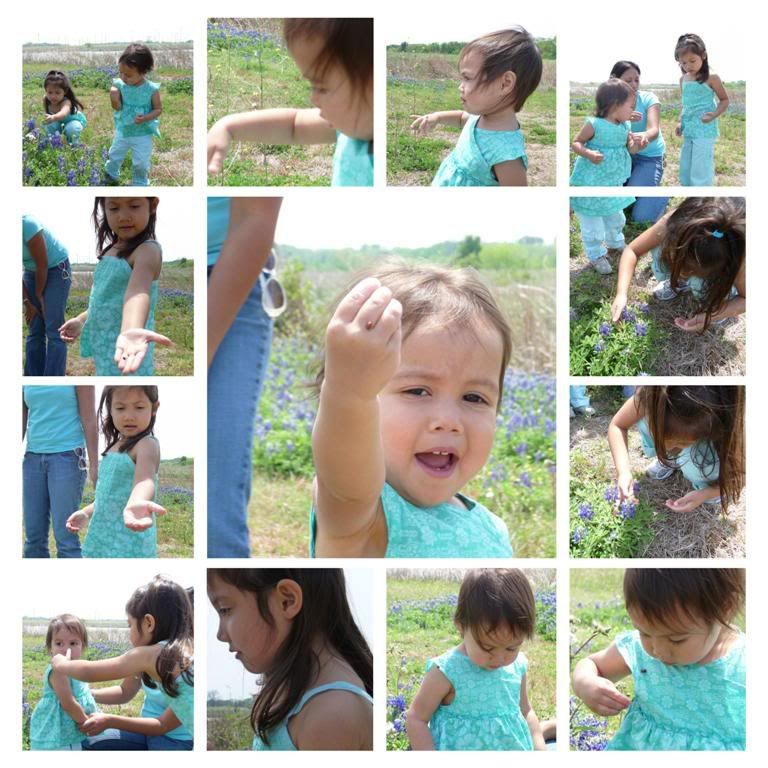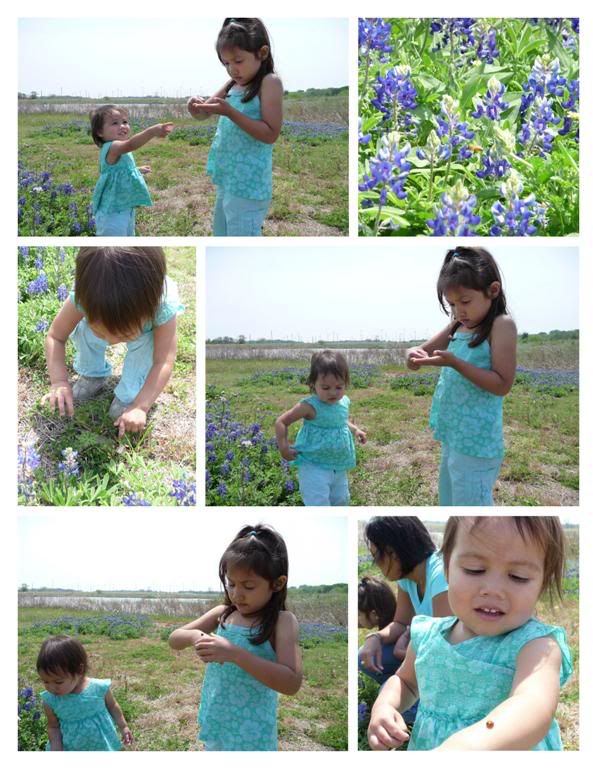 Posted at 01:37 am by ROMTOM
Permalink
Thursday, April 16, 2009
...or should I call it the Easter Dash?!? It was Sabrina's introduction to the egg hunt, and I think she did pretty well considering what it was like out there. This Easter egg hunt was put on by the Lewisville Parks and Recreation and we were joined by my best friend and her children, Jack and Alison. Here's how it all went down....
The 0-3 year olds went first. Alison, Jack and Sabrina with 1 parent each ran in. There was a mad dash of other 0-3 year olds and their parents, too, unfortunately. Sabrina managed to get 2 eggs in her basket, Alison got 2 eggs and Jack got 1 egg. And, it all ended about 10 seconds into it and the mad rush of parents grabbed 5-8 eggs for their kids. It was crazy!!!
So, for Marisa, I told her to make a mad dash to the middle where there wouldn't be any kids and to grab as many eggs as she could. In the minute that it took for the kids to run in and grab as many eggs as they could, Marisa managed to snag a whopping 13 eggs! That's my girl!!! She may not always listen, but when it matters, she follows directions to the T! HA! We LOVE the picture of her b-lining it to the middle to get to those eggs before the other kids.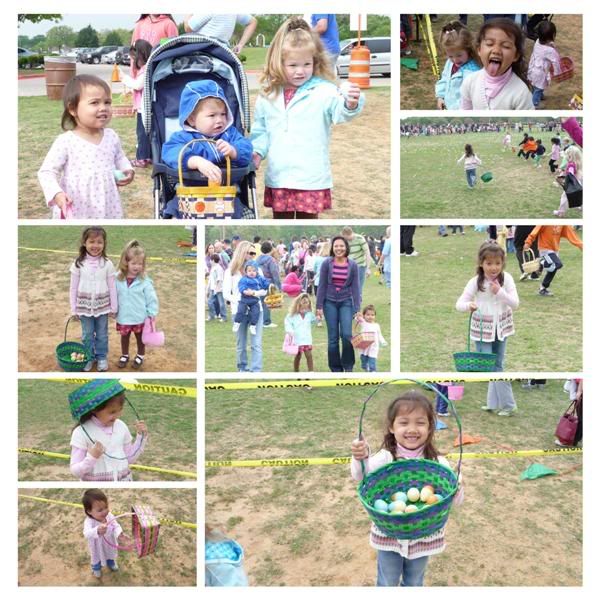 The center picture of us was literally taken a minute after the egg hunt started.
The kids enjoyed 2 more egg hunts. 1 in our house, and another at Meme and Papa's. They were hysterical. Sabrina about fell over from excitement when she saw all of the eggs. Funny girls!
Posted at 11:48 pm by ROMTOM
Permalink
Tuesday, March 24, 2009
What's been going on in our world.
Once again time has flown by and I have little to show in the blog. Josh is always telling me that I just need to get in and blog and to leave out all the fancy stuff, but it's just not that easy for me to write on the fly. I have to plan what I'm writing. It's the engineer in me. So, here is what has been going on around here.

Josh and I made the decision in February to get our house ready to be put on the market. We've lived in this wonderful home for 10 years now!!! It was only supposed to be for 3 to 5 and now look at us. Aside from the fact that we've outgrown the house, we're tired of living in DFW's flight path and even more tired of nightly wake-ups by the neighbor's barking dog. And, based on our children's affinity towards allergy and airborne crap, ozone and air quality maps show that we are better off living in the Northeast Dallas area. The big plan is to move into a better school district so that Marisa gets the most out of the public school system. She's going to be a kindergartener next year! It's just crazy to think that our baby is 5 and ready for school!

Josh has been crazy busy at work with his newest project. In the past, the busiest time at Voyager is the summer since that's when they make their biggest updates to the software. Unfortunately, Josh's project must be ready by the end of June and I'm sure there's more waiting for him afterwards, too. No complaints, though, because it guarantees that he will be employed for awhile. When he's not working like a maniac, we are prepping the house to be listed. We've done major decluttering, painted trim and doors, added ceramic tile to the master bath and kitchen and are waiting on the roof to be replaced. Next to do is touching up paint, major cleaning and staging the house. Staging...hmm, not really something that comes naturally for an engineer.

I've been stressing out about the staging process. Josh says we need to call someone to help us. Last week was spent trying to entertain the girls during Marisa's spring break. Keeping a 5 year old entertained while keeping a busy toddler out of trouble can be a major task in itself. Poor Marisa is constantly having to shield her toys from the breaking hands of Sabrina. I feel as though my life as a mom has turned into being a referee. I can't remember a day where I'm not refereeing the two.

Marisa has started her spring soccer season and has been doing awesome. She's been scoring an average of 3 to 4 goals per game. The latest and biggest news for Marisa is that she lost her first tooth. About 3 weeks ago, she bit into an ear of corn to find that her tooth was loosened in the process. We got updates everyday on how the tooth was doing and whether it had become looser than the previous day. Poor Marisa gets super frustrated with Sabrina's lack of speech. And, what little she does say, sounds nothing like what it's supposed to be, so, she is constantly correcting Sabrina.

Sabrina is finally on the cusp of real speech. I know, most children reach this cusp around 16 or 17 months...Sabrina is now 21 months and has more energy than all of us combined. She is constantly on the move and constantly falling or hurting herself. She busted her lip doing some death-defying crawling under her high chair about a month ago. That comes to busted lip number 4 in the last 6 months. Frightening, I know. She's a brute and a bit of a bully. Unfortunately, I think her bullying behavior stems from her lack of speech and Marisa's inability to understand her context clues. I can't wait until the finally get each other.

Will let you know when the house is finally on the market! Hope this posting finds you all well.


Posted at 04:06 pm by ROMTOM
Permalink
Wednesday, February 18, 2009
Looking back at Thanksgiving
This was our first Thanksgiving spent with both of our parents. Josh's parents finally moved back to the DFW metroplex from New York after being up there for 13 years. As sad as we were to see them leave Campbell, NY, we were also excited to have them so close. Now we don't have to spend an entire day traveling and sitting in airports to see them. They now live a mere 20 minutes away.
Thanksgiving is always about family and togetherness. I LOVE all of my family and am thankful that we all have each other. I love watching the kids with both sets of grandparents and I especially love to see them with their Aunt and Uncle. The weekend before Thanksgiving, we drove up to see Grandma and Grandpa Holding and Aunt Susan and Uncle Marion. It was a long drive, but with Mom and Dad Holding in the car with us, it didn't seem as long. Of course, it probably seemed like an eternity for Mom who got stuck next to Sabrina most of the way.
Here's a great family picture of us with Grandma & Grandpa Holding. Unfortunately, we missed Jackie again on this trip.
Thanks to Grandma and Grandpa Holding, we now have a table to seat our entire family for Thanksgiving dinner.
Back home with our blended family...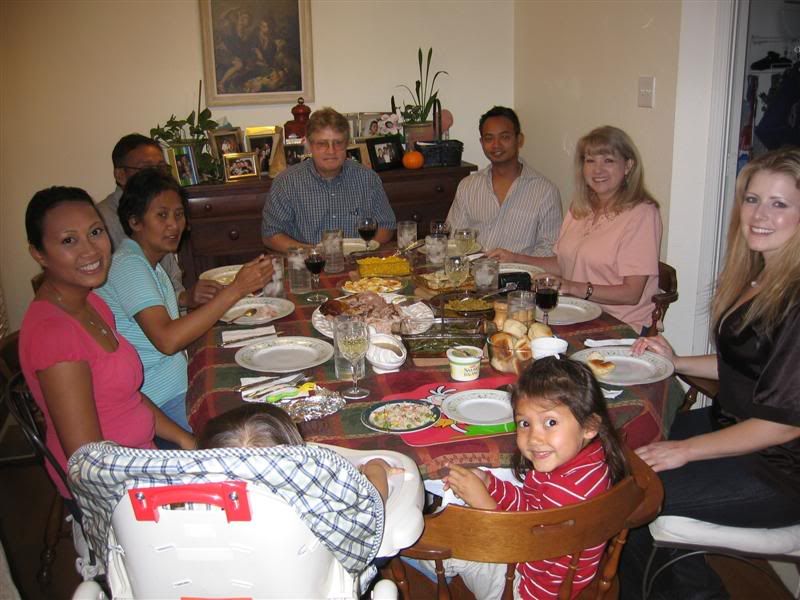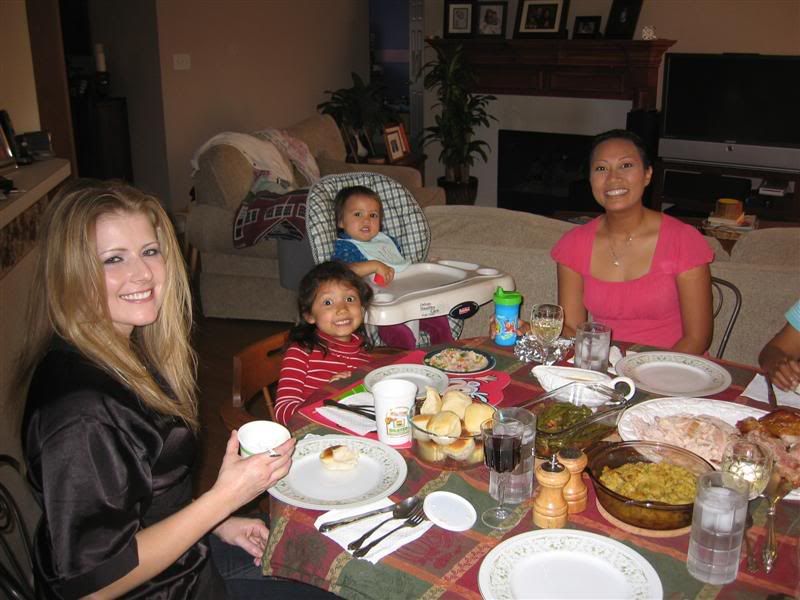 And...what better way to spend Thanksgiving than to be dancing with your Papa. Papa and his girls!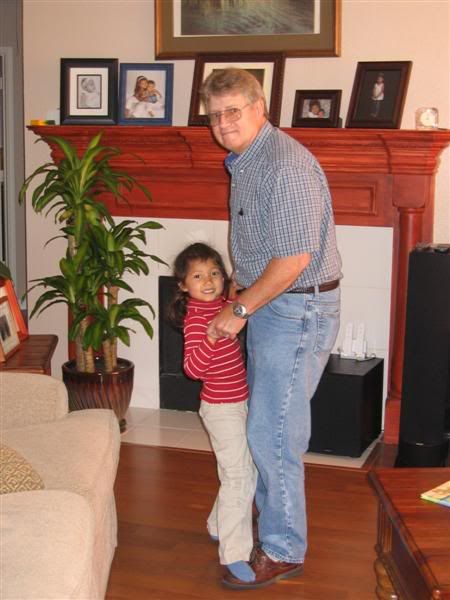 I thank God everyday for the wonderful family that we have!
Posted at 01:12 pm by ROMTOM
Permalink